IDRIC - Energy Storage for Industrial Decarbonisation
February 10th, 2023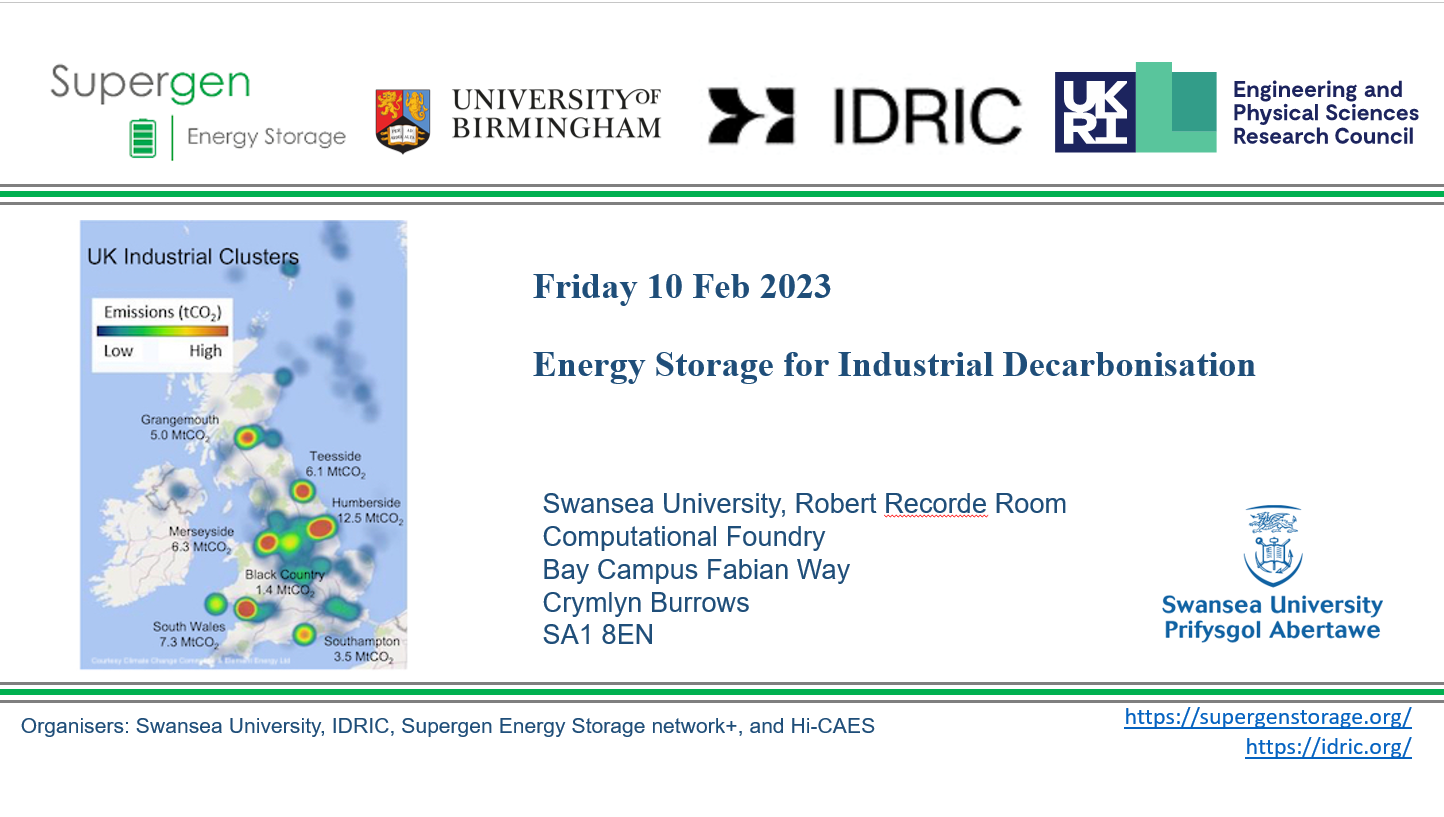 This workshop aims to address the challenge of industrial waste heat recovery, storage & reuse using novel heat storage materials (HSM).
About this Event
This is a joint workshop, co-organised by IDRIC, Supergen energy storage network+ and Hi-CAES project.
Project teams from University of Birmingham, Durham University and Swansea University are contributing to the drive to decarbonise industry through the IDRIC (Industrial Decarbonisation Research and Innovation Centre) programme. Within the Scale up opportunities at cluster and value chain level Multidisciplinary Integrated Programme (MIP) the teams from Birmingham and Durham are aiming to develop and demonstrate integrated and flexible solutions to address key technological challenges, to accelerate the cluster decarbonisation and to facilitate the clusters to support wider energy network decarbonisation. Specific focus is upon co-located gas compression and industrial thermal processing which contribute >5MT CO2/annum. The Swansea team aims to address the challenge of industrial waste heat recovery, storage & reuse using novel heat storage materials (HSM) which store energy indefinitely. The objective is to move heat from industrial regions to where there is demand and one clear target is home heating which must be delivered in new-build without gas by 2025. The focussed industrial site is a 760MW waste heat resource equivalent to over 500,000 home heating systems responsible for >1Mt CO2 per annum.
Supergen Energy Storage Network+
The development of energy storage technologies is vital to the UK's low energy networks, helping to bring carbon emissions to Net Zero by 2050. The Supergen Energy Storage Network+ is an integrated, forward-looking platform that supports, nurtures the expertise of the energy storage community, disseminating it through academia, industry, and policy, at a particularly important time when decisions on future funding and research strategy are still being resolved. As a community, the Supergen Network+ will identify key research barriers within the energy storage sector so that global agencies can best direct available funding and support. Our vision is an environment where stakeholders with an interest in energy storage are connected, where early career researchers (ECRs) feel nurtured and positioned to advance, and where equality, diversity, and inclusion (EDI) is an integral element of thought and discussion across the field.
The UK Industrial Decarbonisation Research and Innovation Centre (IDRIC)
IDRIC is the focal point of the green transformation in the UK's industrial heartlands. Powered by research and innovation and funded by UKRI, IDRIC develops innovative decarbonisation solutions at speed and scale in the places where it matters most. Collaborating with research organisations, industry, government, policymakers, NGOs, trade organisations and the public, IDRIC is co-creating whole-system, multidisciplinary solutions that are accelerating the green futures of our industries. Decarbonising the UK's largest industrial clusters is a key step towards reaching the UK's Net Zero emissions target set out in the UK Industrial Decarbonisation Strategy (2021). IDRIC is a challenge-led centre, working towards the creation of:
• Two low carbon clusters by the mid-2020s and a further two by 2030
• The world's first net-zero carbon industrial cluster by 2040
Hi-CAES: High Performance Compressed Air Energy Storage Elevated through High-Temperature Thermal Storage, Funded by: EPSRC
The project aims to develop a Hi-CAES technology, which integrates the CAES with high-temperature thermal energy storage (HTES) to achieve high energy conversion efficiency, high energy and power density, and operation flexibility. The technology uses HTES to elevate CAES power rate and also convert high-temperature thermal energy to electricity using compressed air - a natural working fluid. The proposed technology is expected to increase CAES's electricity-to-electricity efficiency to over 70% and overall energy efficiency to over 90% with additional energy supply for heating and cooling. The proposed Hi-CAES will also increase the storage energy density and system power rate significantly. Meanwhile, the technology can convert the stored thermal energy into electrical power with a much higher energy conversion efficiency and lower system cost than current thermoelectrical energy storage technologies. With the integration of HTES with CAES, the system dynamic characteristics and operation flexibility can be much improved in terms of charging and discharging processes. This will place Hi-CAES in a better financial position as it can generate revenue through certain high market value fast response grid balance service. The goal of the project is to improve both the CAES efficiency and energy density considerably through the integration with a HTES system. The research will address the technical and scientifically challenges for realisation of the Hi-CAES system and societal challenges of deep power system decarbonisation.
Agenda
9.30 – 10.00 Introduction from Yulong Ding and Jonathon Elvins
10.00 – 13. 00 Presentations and discussion:
Two update presentations from each institute delivering the latest findings and progress towards the end goals.
13.00 – 13.45 lunch
13.45 – 15.00 Tour of the Active Office and Active Classroom
This Workshop will be a hybrid event with a mix of presentations from industry experts and academies.
All registrants will receive the final agenda and workshop venue via Email by 3rd Feb. Lunch and drinks will be provided. Registrants who request to participate online will receive the Zoom link via email by 3rd Feb 2023.
Registration is free via Eventbrite
We look forward to you joining us at our event.
Other events