First Cross Hub ECR Event 2023
March 15th, 2023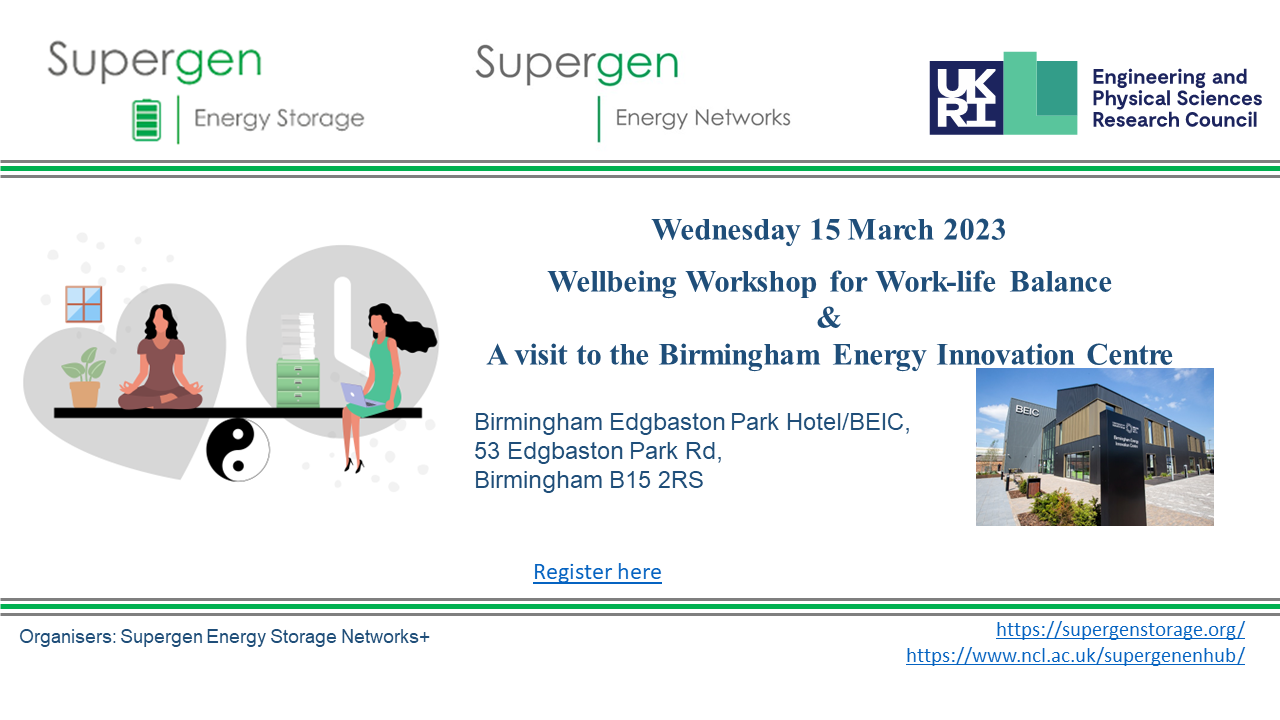 Join us for our first cross hub ECR event on Wednesday 15th March, Edgbaston Park Hotel, jammed pack with techniques to enhance your wellbeing and work-life balance.  You will also get to view the facilities at Birmingham Energy Institute. 
For more information, please check this Register link
Agenda
The First Supergen Cross Hub ECR event – 15 March 2023
10:00: Meet & Greet at Edgbaston Park Hotel
10:15: Move to the meeting room – Health check /State of mind survey.
10:35:  Supergen Energy Storage Network Plus, Director's Address to the first Cross-Hub Workshop
10:45: Session 1 - Meditative Approaches to Work-Life Balance/ Stress Management
Introduction

Mindfulness: mind and body mind scan

Chair yoga for stress management
11:45 AM: Coffee/tea
11:55: Session 2 - Work-Life Balance / Sleep Hygiene
Introduction

Yoga Nidra

Final Health check/State of mind survey
13:00: Lunch
14:00: Coach from EPH to Birmingham Energy Innovation Centre (BEIC)
14:45: Tour of BEIC facilities – including Hay Mills area and Webster & Horsfall
16:15: Q&A session/discussions and coffee breaks
16:45: Coach to return to UoB Campus (North Gate)
Organisers:
Dr. Shivangi Sharma [email protected]
Dr. Amruta Joshi [email protected]
Mrs. Norihan Taib [email protected]  
Other events